Dall' 11 al 21 Luglio 2019 a Perugia, torna l'appuntamento per eccellenza con la musica in Umbria: torna infatti Umbria Jazz, con un cartellone ancor più ricco ed eclettico. 
L'importanza di questo festival è oramai ben nota, si tratta di una vera e propria avventura cominciata nel 1973 che ha saputo crescere ed innovarsi anno dopo anno, edizione dopo edizione, capace di portare le più grandi eccellenze della musica jazz italiana e internazionale a calcare i palchi umbri. Sottolineamo anche l'impegno e il valore del sistema "Umbria Jazz" nel moltiplicare gli eventi e nel coinvolgere quanto più possibile altre aree e città umbre, in quell'ottica di condivisione libera della musica che anima il festival fin dalle origini. Impegno ancor più apprezzabile mentre è ancora in corso la lenta ripresa dell'economia turistica della regione a seguito degli eventi sismici di due anni fa.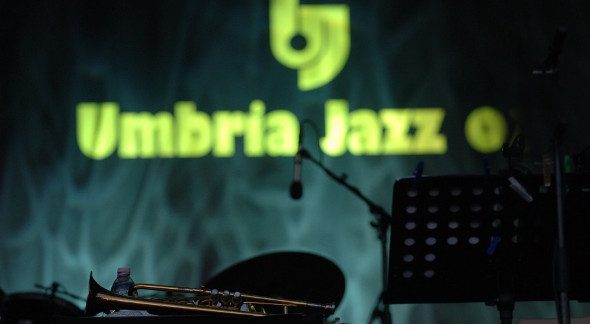 >> Vivi i suoni, i colori e l'atmosfera di un'intera città in festa con Umbria Jazz! Clicca qui e prenota ora il tuo hotel a Perugia
Umbria Jazz 2019, il PROGRAMMA DEL MAIN STAGE
Per Umbria Jazz 2019 la cornice è come sempre quella di Perugia, con le sue prestigiose location e in particolare con la splendida Arena Santa Giuliana.  Ecco allora cosa ci regalerà il Main Stage dell'Arena, il palco più prestigioso di Umbria Jazz!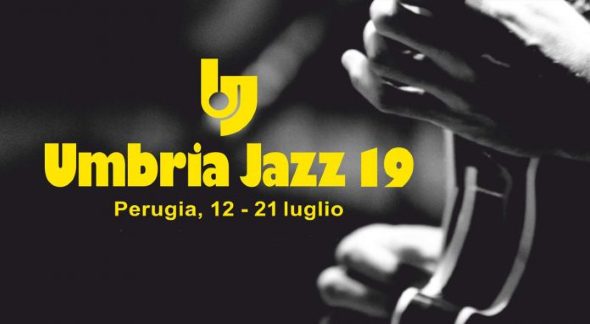 VENERDI' 12 LUGLIO ore 21:00
UMBRIA JAZZ 2019 Robben Ford + Alex Britti, Max Gazzè, Manu Katché
Un evento che si preannuncia imperdibile. Sul palco perugino si alterneranno autentiche leggende della musica nazionale ed internazionale. Ad aprire la serata ci sarà nientemeno che Robben Ford, leggenda della chitarra blues con all'attivo cinque Grammy nominations, tre decenni di carriera solistica, collaborazioni con Miles Davis, Joni Mitchell, George Harrison, e Bob Dylan. Subito dopo di lui, il particolare trio formato da Alex Britti, Max Gazzè ed il batterista francese Manù Katchè.  L'incontro tra Britti e Gazzè non è nuovo visto che già negli anni Novanta Alex e Max si erano ritrovati a suonare insieme nei fumosi locali blues di tutta Europa. A due anni da una serie di concerti intrapresi per ricordare questo loro periodo passato, al già eccezionale duo si aggiunge un altro straordinario musicista: il batterista Manu Katche che nel suo curriculum vanta lunghe collaborazioni con Peter Gabriel, Sting, Joe Satriani, Dire Straits e tra gli italiani Pino Daniele e Stefano Bollani.
SABATO 13 LUGLIO ore 21:00
DIANA KRALL special guest JOE LOVANO 

Graditissimo ritorno quello di Diana Krall ad Umbria Jazz a distanza di soli tre anni. In questa occasione con la sua band troviamo un ospite davvero molto speciale: Joe Lovano, uno dei più grandi sassofonisti del jazz contemporaneo. La line up comprende Robert Hurst al basso, Karriem Riggins alla batteria e Marc Ribot, geniale chitarrista e creatore di progetti non convenzionali.
DOMENICA 14 LUGLIO ore 21:00
PAOLO CONTE "50 years of AZZURRO"
L'Italia è cambiata negli ultimi 50 anni e con lei, anche tutta la musica che fa da sottofondo all'incedere del tempo. Poi però ci sono canzoni che rimangono inalterate nella storia e diventano parte del costume di un paese. "Azzurro", resa celebre da Adriano Celentano è una di queste canzoni. La canzone venne composta Paolo Conte ed i 50 anni di questa canzone danno l'occasione al cantautore genovese di portare ad Umbra Jazz la sua musica. La rassegna jazz accoglie nel suo cartellone la canzone d'autore italiana di cui l'Avvocato astigiano è da oltre cinquant'anni uno dei più amati e autorevoli interpreti. 
LUNEDI' 15 LUGLIO ore 21:o0
MICHEL CAMILO
GEORGE BENSON
Serata unica per l'Umbria Jazz Festival! Due leggende della musica si alterneranno sul palco per una serata incredibile che accontenterà tutti gli ascoltatori più raffinati
MARTEDI' 16 LUGLIO ore 21:00
RICHARD BONA
CHICK COREA
Sonorità ispaniche per due grandi interpreti del jazz. Un Chick Corea mai così attivo e creativo come in questi ultimi anni, porta ad Umbria Jazz "The Spanish Heart Band" uno spot sull'anima latina del grande jazzman. Esperienza non nuova per il celebre pianista americano, difatti i fans ricorderanno certamente che My Spanish Heart (1976) è anche il titolo di un disco di grande successo con cui Corea traduceva in suono la sua passione per la musica ispanica ed il flamenco (fondamentale in tal senso fu la collaborazione con Paco de Lucia, leggenda del flamenco). Sempre in tema di riscoperta della Spagna, il nuovo "Flamenco Project" di Richard Bona ha preso forma tra Madrid e Barcellona ed è stato ispirato da un concerto di Paco De Lucia. Fedele alla sua visione della musica, che si propone di superare i paletti dei generi codificati, Richard Bona con Bona de la Frontera fonde i ritmi africani e le tradizioni andaluse per immaginare un "nuovo flamenco". Con lui una band di assoluto livello in cui spicca il madrileno Antonio Rey, considerato il nuovo astro della Guitarra Flamenca.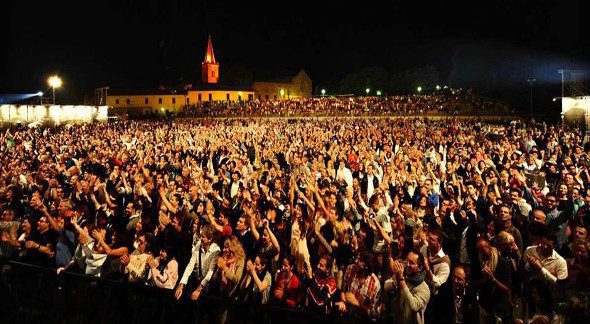 MERCOLEDI' 17 LUGLIO ore 21:00
NICK MASON'S SAUCERFUL OF SECRETS
Riaccendere i riflettori sul primo periodo dei Pink Floyd, sul rock psichedelico e più sperimentale delle origini, sulla nascita della leggenda. È il progetto di Nick Mason, cofondatore e batterista della band, il solo sempre presente per tutto l'arco del trentennale percorso artistico dei Pink Floyd, sia in sala di incisione che nei tour.
GIOVEDI' 18 LUGLIO ore 21:00
KING CRIMSON
I King Crimson celebreranno nel 2019 il 50° anniversario del gruppo e quale modo migliore, per la leggendaria band capitanata da Robert Fripp, se non un tour mondiale che li vedrà toccare tre continenti e calcare i palchi dei maggiori festival ed arene estive. 
VENERDI' 19 LUGLIO ore 21:00
SNARKY PUPPY
Gli Snarky Puppy sono diventati in poco tempo (la nascita ufficiale risale al 2004) una delle formazioni più popolari del mondo del jazz e della fusion, termini che però nel loro caso risultano riduttivi. In realtà la musica di Snarky Puppy sfugge a ogni tentativo di classificazione proprio per la capacità di concentrare con estrema disinvoltura i suoni della contemporaneità.
SABATO 20 LUGLIO ore 21:00
THOM YORKE
Thom Yorke, cantautore, polistrumentista, compositore britannico e storico frontman dei Radiohead, è uno dei cantanti più importanti e influenti del nuovo millennio, inserito nella lista dei 100 migliori cantanti di sempre secondo Rolling Stone.
"The Eraser" è il titolo del suo primo album solista, pubblicato nel 2006 e prodotto da Nigel Godrich, produttore dei Radiohead.
DOMENICA 21 LUGLIO ore 20:45
LAURYN HILL
 Una delle personalità artistiche che hanno maggiormente caratterizzato il passaggio del millennio. Lauryn Hill si conquistò una reputazione nel mondo della musica come unica componente femminile del trio The Fugees (gli altri erano Wyclef Jean e Pras Michel) che negli anni novanta fu campione di vendite di dischi, secondo solo a Michael Jackson sulla scena internazionale del R&B. Ai Fugees si riconosce il merito di aver portato ai massimi livelli artistici un genere come l'hip hop, anche coniugandolo con soul, reggae e ritmi caraibici.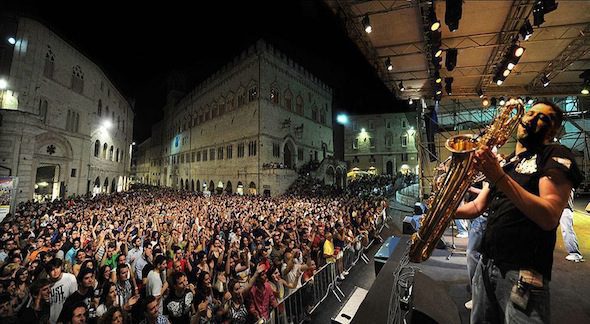 >> Umbria Jazz ti aspetta con il meglio della scena musicale jazz nazionale e internazione… e non solo! Consulta i migliori agriturismi della zona e organizza le tue vacanze a Perugia durante Umbria Jazz 
E Umbria Jazz continua: scopri il programma completo!
Oltre all'Arena, Umbria Jazz è protagonista con tantissimi altri eventi dislocati nella città di Perugia, dalle vie centro storico ai Giardini Carducci, dal Teatro Morlacchi alla storica Piazza IV Novembre.
Il cartellone di Umbria Jazz è infatti ricco di concerti, incontri ed iniziative dove la musica è sempre protagonista. Inoltre, assapora tutto il gusto dell'enogastranomia umbra a suon di musica con jazz lunch, aperitivi in musica e ristorante all'aperto all'Arena, dove coniugare buona cucina e buona musica.
Apri l'ALLEGATO in fondo alla pagina per scoprire il PROGRAMMA IN DETTAGLIO!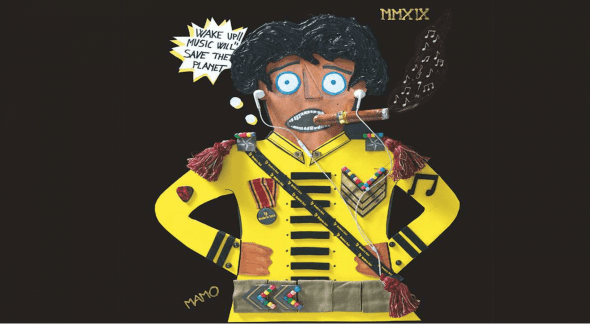 >> Ci sono tante offerte in scadenza per soggiorni in Umbria! Scoprile ora, Umbria Jazz ti aspetta!