The medieval walls of Perugia were built at the turn of the thirteenth and fourteenth century to accommodate the expansion of the city. The most important gates of the medieval walls are Porta San Pietro, Porta di Sant'Angelo and Torre di Sciri. Porta San Pietro, also known as Porta Romana is located at the end of Corso Cavour. The exterior facade, designed by Agostino di Duccio and Polidoro di Stefano inspired by Leon Battista Alberti in the late fifteenth century, has decorative elements very similar than the ones of the Arco Etrusco (Etruscan Arch).
>> Do you want to visit Perugia? Check it out now of the best hotels in Perugia Italy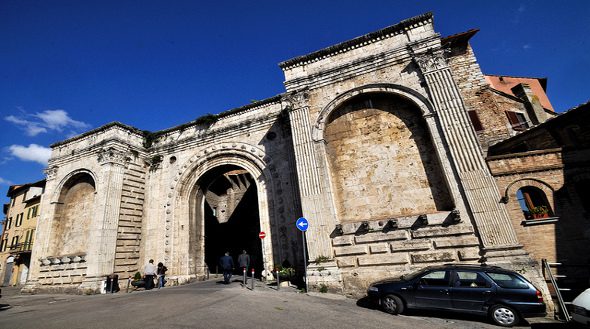 >> Do you want to discover Perugia's treasures? Check it out now of the best farmhouses in Perugia.
The internal façade , unchanged from the medieval period , on the top has a painting of 1817, which depicts Madonna del Rosario between St. Dominic and St. Francis. Porta San Pietro is so profound to accommodate the Cappella di San Giacomo (also known as Buon Consiglio), belonging to Collegio del Cambio, renovated in the sixteenth century . A plaque commemorates also the victims of the 20 June 1859 massacre of Perugia.
If you've decided to visit Perugia and discover its Medieval Walls you should contact now farmhouses near Perugia >> click this link.