From 27th February 2016 in Spoleto there will be the exhibition "De Chirico: The Reconstruction", curated by Carlo Strinati. The exhibition reaps a selection of masterpieces of this italian painter and Maestro, that will remain exposed until 5th June 2016.
The exhibition will be housed in the seventeenth century Palazzo Bufalini of Spoleto, in Piazza Duomo, inside the exhibit space MAG MetaMorfosi Art Galley.
A new reality dedicated to the art, the MAG MetaMorfosi consists of an area of 200 square meters that has a unique position, with the windows and the magnificent terrace of the building from which the visitors can admire the beauty of the Duomo of Spoleto.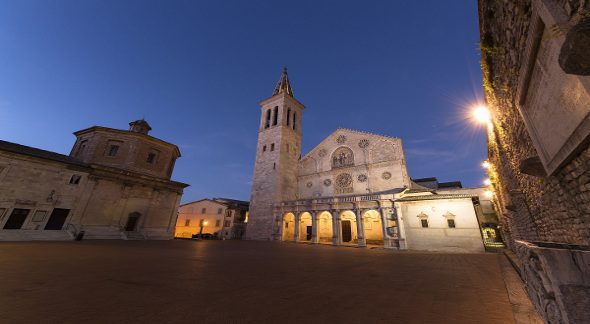 Main exponent of the art movement of metaphysical painting, Giorgio De Chirico (1888 – 1978) has realized, especially since the 1910, a series of works characterized by unrealistic prospects, immersed in an atmosphere of transcendence.
In addition to the recurring essential architectures, the works exhibit objects that were painted with a total meticulousness and attention to the details, but incongruous with the context, so as to create a definite effect of removal from their own realism.
De Chirico wrote about this, in his work Statues, meubles et généraux (1927), the following words:
"It has already been noted more than once the curious aspect that manage to have beds, wardrobes, dressing tables, sofas, tables, when we suddenly find them on the road, in a scenario in which we are not used to seeing them […] The furniture, taken from the atmosphere that reigns in our homes and exposed outdoor, arouse in us an emotion that let us to look the way in a new different light".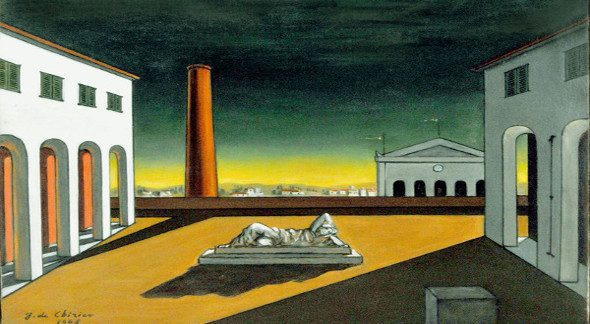 The exhibition "De Chirico: The Reconstruction" will be open at the following times:
10.30 am – 1.00 pm
3 pm – 6.00 pm
For more informations, it is possible to call at  0743 222889.
After this debut with the exhibit dedicated to De Chirico, the exhibition space MAG MEtaMorfosi Art Gallery will carry on its activities with a rich program, collaborating with fundations and national and international cultural institutions, in order to bring in Spoleto the greatest exponents of the world of the classic and modern art.
The city thus confirms itself as a dynamic center and a point of reference of the artistic dimension, in line with the context of excellence already established with the Festival dei Due Mondi in Spoleto, a world-renowned event.