Rocca del Leone of Castiglione del Lago is a magnificent building which  for centuries has been the most important military settlement placed on the shores of Lake Trasimeno and is formed by a wall with battlements polygonal Guelph , four towers and the triangular keep. It was begun in XII century on the ruins of an earlier fortification destroyed in 1091 by Henry IV ( 1050-1106 ) of Franconia. In 1297 the magistrates of Perugia decided to fortify the town and the next year they decided to build a fortress inside the castle to better defend the inhabitants. 
>> Do you want to visit Castiglione del Lago? Check it out now of the best Farm-Houses in Castiglione del Lago, Italy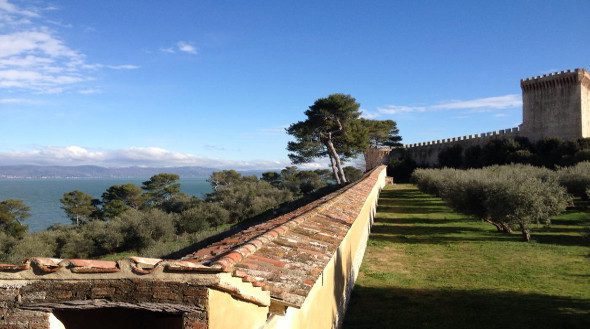 In 1501  Giampaolo Baglioni stabled here his residence, taking care to restore and expand the complex , works continued under his son and were completed by Ascanio Della Corgna I ( 1516-71 ). In 1554 Ascanio replaced some of the towers of the fortress with bastions and also by providing cylindrical create within the walls of a number of Italian gardens . He built the mansion that is now the seat of the town hall , restoring and expanding fourteenth-century buildings . Diomede, the adopted son of Ascanio I, made this palace in Castiglione del Lago become a literary salon, called The Gardens of Maecenas . The fortress, after the death of his nephew Fulvio II,  came under the jurisdiction of the Apostolic Chamber and in 1860 to the municipality of Castiglione del Lago.
>> Do you want to discover Castiglione del Lago's treasures? Check it out now of the best farmhouses in Castiglione del Lago.
Alberto Grohmann relates : " In the plant urban based on a checkerboard pattern , with a module with a square base repeated six times, can be traced clearly the number 3 . The town , in fact, three squares , three main streets , three doors , and also the keep of the tower has a triangular plan . "
From the tower you can enjoy a splendid view over the Val di Chiana and nearby Cortona, accessing by a striking passage that connects Palazzo della Corgna.
There are offers  for vacation rentals in the area of Castiglione del Lago! Click and Consult them immediately.