Mid-August and Summer holidays are coming, if you have not organized your trip yet or if you are looking for something different, away from the usual and busy seaside towns, Umbria is the place for you !
Discover the wonders of this unique region, you will have endless opportunities to spend an enchanting stay in the best accomodations, always characterized by a welcome and a friendliness that will make you feel like at home. Hotels and b&b immersed into the green, farmhouses out of time and space where you can regenerate yourself with Spa treatments or a refreshing dip in the pool, apartments and cottages to live moments of serenity with your family… and much more!
Beside enjoying the natural beauty of the region, and visiting the many art cities, rich in history and culture, there are many events that enliven the territory, even in the smallest village… dedicated to fun and – as always in Umbria – to good food. So, why not combine all of these ?
We have some suggestions for a very special 2018 August in Umbria !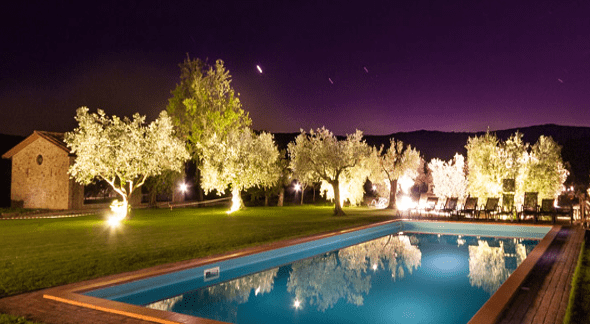 >> Find the most beautiful farmhouses and hotels of Umbria, and give you a fabulous August! Here there are our best suggestions
Trasimeno Lake & Perugia
Trasimeno Lake is always a certainty: a walk along the lake to relax in a peaceful ambience, a boat trip to explore the fascinating small islands that characterize it, a tour to the beautiful villages scattered on the hills all around… a truly unique setting, and a wonderful place that can satisfy all tastes !
With the Ferragosto Torreggiano Feast, you will add a journey in Ancient Rome to all of this ! The festival of Tuoro Sul Trasimeno, in fact, traces the historic Battle of Trasimeno and reconstructs the glories of the past with challenges between local districts (called "rioni"), entertainment, theatrical events, historical parades, tasting and themed evenings… (we are waiting for the uploaded dates of 2018).
On Sunday 12th August, however, Passignano sul Trasimeno will be the protagonist with the non-competitive boat race of 2018 Trasiremando: a fascinating and challenging race that skims the three islands of the lake, passing through Monte del Lago and then returning to Passignano, in which are involved boats of any type and size. Look here to know how participate!
After a day at the lake, do not forget to visit Perugia: the Umbrian capital, historic city rich in art and culture, between medieval streets, breathtaking views and meals to taste, offers so much to see ! Here our mini-guide of Perugia, with more informations and advices about it.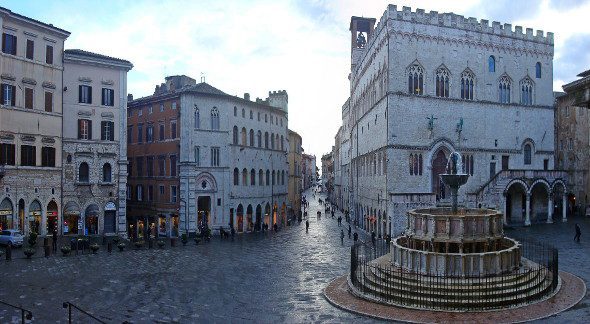 >> Come to Perugia and stay in one of the hotels, b&b and farmhouse of its area… Click here to discover our suggestions
Orvieto, Todi and Corbara Lake
In Orvieto you can spend August with music, at Aspettando Umbria Folk Festival at La Penisola, located at Corbara Lake ! The beauty of this small artificial lake, which has become a natural kingdom where many species of rare birds come to nest and that is characterized by a lush vegetation, will be the frame of evenings of live concerts, dances and entertainment…
Waiting for the grand finale! Last year there were Vinicio Capossela and Baustelle live in concert in Piazza del Popolo, in the heart of Orvieto. We will update you about the 2018 program in our page where you will find all the informations about the festival.
You will be pleased to explore the area near the lake and to get in contact with the nature of the Tiber River Park, for example by organizing an excursion to the majestic Gola del Forello or in the fascinating Grotta Bella. For ones who are more adventurous, they can also practise canyoning, caving, fishing, canoeing and boating in this unique setting, between water and mountain landscapes.
Corbara Lake is also located between Orvieto and Todi, you will have the opportunity of admiring the Cathedral of Orvieto and to visit Orvieto Underground, from famous Saint Patrick's Well to Cave Well with its underground passages and tunnels, and then you could explore Todi too! This small Umbrian gem worths absolutely a visit… read our mini-guide about Todi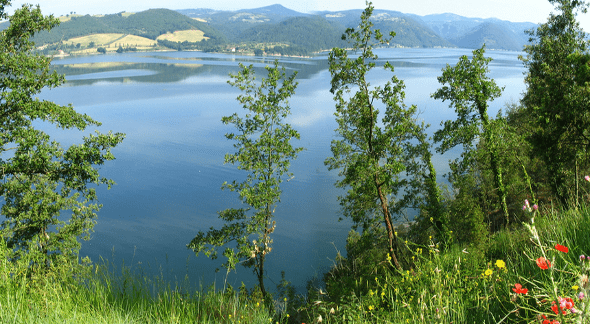 >> Give you a holiday in Umbria, we suggest you hotels and farmhouses to stay in the area of Orvieto
Nature & Events in the Nera Valley
If your holidays will begin after 15th August, do not miss the appointment with Le Rocche Raccontano in Ferentillo !
This small charming town, near to Marmore Falls which are definitely to visit, is located in the heart of Valnerina and close to Norcia. In Ferentillo you can visit the unusual Museum of the Mummies, unique of its kind, and playing sports as climbing at the beautiful Apennine cliffs or rafting and hydrospeed.
With the event Le Rocche Raccontano – we are waiting for the 2018 definitive daters – you will relive all the magic of the past: on the occasion of this historic reenactment, in fact, in which all the locals are involved, there will set up along the streets of the village numerous "living pictures" based on beautiful sceneries. The scenes, perfect in every details, will trace the history of Ferentillo: from the earliest inhabitants to the Lombards, from medieval life to the Napoleonic occupation, from the insurrections of Risorgimento to the Great War.