The ancient "Interamna Nahartium", which means "land between two rivers", at Terni, the Nera and the Serra rivers, was the birthplace of the emperor Marcus Claudius Tacitus and of the author Cornelius Tacitus, among other important personages of the past.
In the second half of the 19th century, Terni took part in the industrial revolution, and was awarded the appellative of "Manchester of Italy". Its present-day appearance, due for the most part to the heavy bombardments to which it was subjected during World War II, is mostly modern and dynamic. 
>> Do you want to visit Terni and Marmore Falls? Check it out now of the best farmhouses in the vicinity.
This notwithstanding, the city conserves a part of its old town center and some impressive monuments. Among these, we would like to point out in particular the Church of St. Francis, (12thcentury) with its very beautiful Paradisi Chapel decorated with frescoes dating back to the 14thcentury; the ancient small church of St. Alò, which is a small romanic jewel; the Church of St. Salvatore, probably built upon a pre-existing Temple of the Sun dating back to Roman times; the Church of St. Peter, with its interesting structure of the apsis and the cloister; and finally the Cathedral, built in the 17th century.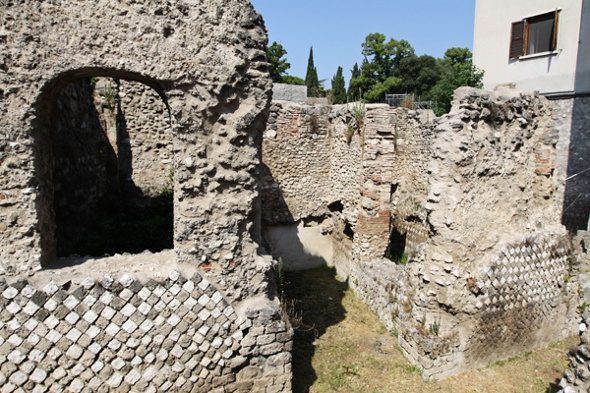 There are offers  for hotels in the areas of Terni! Click and Consult them immediately.
The ruins of the Roman Amphitheater, the old town walls and the medieval quarters, with their remains of ancient towers and beautiful palaces, are also noteworthy. Among these, Palazzo Spada, attributed to Sangallo, is particularly interesting. But, above all, Terni is interesting because of its modern architecture: is owes Piazza Tacito with its distinctive Fountain, the Corso del Popolo and Largo Villa Glori to the architect Ridolfi, one of this century's greatest architects. The Obelisque "Lancia di Luce", however, is owed to the artist Arnaldo Pomodoro. 
Furthermore, the Basilica of St.Valentine, which guards the Saint's remains, is to be found at Terni. The Saint, who was Bishop of Terni, was martyred in the 3rd century and has become the Patron Saint of lovers all over the world. At 6 km distance from Terni the impressive Marmore Waterfalls, which, with falls totalling 165 meters in height, are the highest waterfalls of Europe, are to be found. Also you should not miss the ruins of Carsulae, an ancient Roman city, the charming medieval village of Cesi, and Lake Piediluco with its evocative village of the same name. 
Among the most important manifestations taking place in the city we should absolutely mention the festival Cantamaggio.
>> If you've decided to visit Terni you should contact now farmhouses in its vicinity >> click this link.