Gubbio Christmas Tree, the biggest Christmas Tree in the world
Gubbio (PG) and Christmas are a marriage that lasts from 1981, since on the slopes of Mount Ingino the eugubini decided to "build", in honor of the Patron Saint Ubaldo, an over 650-meters high Christmas tree with more than 250 green points of light, 300 multicolored lights and a 1.000 m² star on top of the tree designed by 200 lights. Such an achievement that could not go unnoticed, and in 1991 it entered in the Guinness Book of World Records as "The World's Largest Christmas Tree".
L'Albero di Natale più grande del mondo (The biggest Christmas Tree in the world) every year is switched on the eve of the Immaculate Conception, December 7th. Remains active throughout the holiday season, until the day of Epiphany, January 6th, or slightly beyond.
>> Do you want to watch this special event? See now the list of the best farm houses in Gubbio and find the offer for you!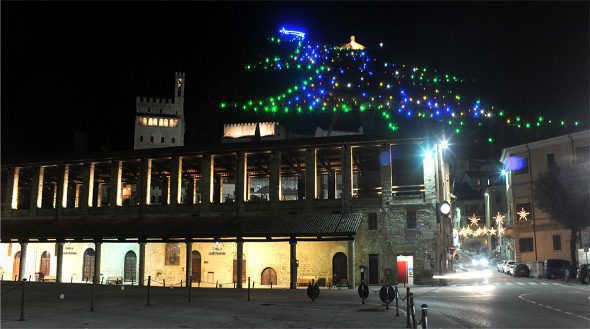 Many important personalities (except the first mountings, from 1981 to 1987, ed) as the editions go by have had the honor to turn on the Gubbio Christmas Tree (also called Mount Ingino Christmas Tree). For example in 2011 to press the button was Pope Benedict XVI.
During the 2013 edition was Don Francesco Soddu, Director of Italian CARITAS,  who "light up" the Christmas Tree on December 7th, 2013. This wants to be a tribute to the valuable contribution that volunteering is giving in these difficult times to meet the emergencies of many Italian families and to welcome the thousands of migrants who arrive in our country.
For more information, please visit the official website of the Albero di Gubbio
alberodigubbio.com
.
This year will be Francis Pope who "light up" the The World's Largest Christmas Tree, on 7 December.
During the usual lighting ceremony, the Pope will be present through a video connection and turn on the electrical circuit by the signal of a tablet, like it happened for Pope Benedict XVI in 2011, and the President of the Republic, Giorgio Napolitano, in 2012.
On December 7, there will be the official ceremony of ignition from 40 Martyrs Square, (Gubbio) starting at 18.00.
The tree will remain lit from dusk to late night for the entire Christmas season until January 10 of next year.