Gubbio Christmas Tree, the biggest Christmas Tree in the world
Gubbio and Christmas have had a common bond since 1981, when on the slopes of Ingino Mount the inhabitants of Gubbio (called "Eugubini") had decided to "build", in honor of the local Patron Saint Ubaldo, a Christmas Tree.
The Tree is over 650-meters high, with more than 250 green points of light, about 300 multicolored lights and a star of 1.000 m² on top of the tree, designed by 200 lights. Such an achievement could not be unnoticed, and in 1991 it entered in the Guinness Book of World Records as "The World's Largest Christmas Tree".
The biggest Christmas Tree in the world is switched every year, on the Eve of the Immaculate Conception, on 7th of December. It remains active throughout the holiday season, until the day of Epiphany, on 6th January, or slightly beyond.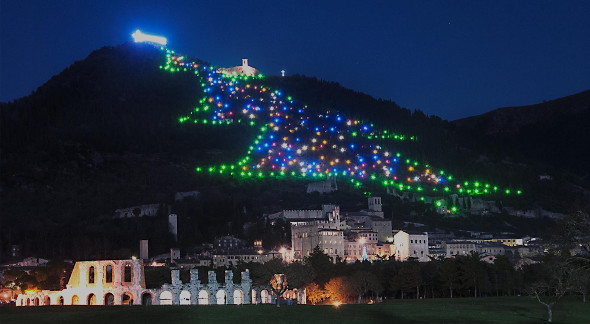 On the occasion of the first lighting of the Year, the city of Gubbio organizes a special event in which many important people will participate (except for the first setting up, between 1981 and 1987 ndr).
In the various editions, many personalities had the honor of lighting the Christmas Tree of Gubbio: for example, Pope Benedict XVI in 2011 and then, as his predecessor, Pope Francis in 2014. And also many national and international associations, from Caritas to Medici Senza Frontiere in 2015 up to Save The Children in 2016.
In 2017 there was a special lighting from space, with the collaboration of the European Space Agency and the Italian Space Agency, while in 2018 this honor is reserved to the Frecce Tricolore.
For all the informations about the current lighting, please look at our article about the Lighting of the Christmas Tree of Gubbio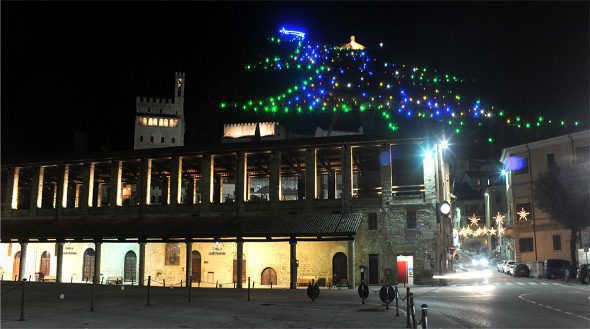 >> Come to see the World's Largest Christmas Tree, we suggest you the best hotels, b&b and farmhouses of Umbria