Description
The Joust of Quintana of Foligno is one of the events not to be missed in Umbria!
"The Challenge" will take place on 15th and 16th June 2018 with a series of events that will animate the city from the previous days, starting from the 1st of June when the taverns are scheduled to open. The tavern indeed will accompany the whole event with the best typical gastronomy.
For the competition, 10 horse riders who represent the districts in which Foligno is divided, combined with the spectacular costumes and scenography as well as the enthusiasm of the "quintanari", give an event that remains in the eye and in the heart of those who live it.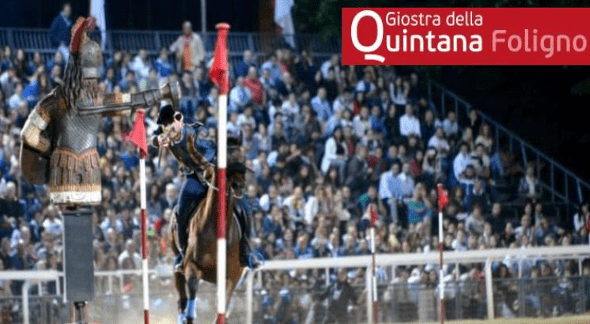 The Joust of Quintana of Foligno
The Joust of Quintana is a real equestrian race, among the most difficult that take place in Italy and for this even more compelling. The track, of a shape of eight, is bordered by small flags. It presents a statue of the ancient God Mars with hanging rings that the riders have to skewer. There are three rounds, and at each round the ability of the jockeys must be greater because the size of the rings gradually decreases.
The manifestation has ancient origins, as it recalls the historic carousel disputed during the Carnival in 1613, when various descendants of the noble families of the city challenged each other to establish "what is most pleasant for a cavalier d'honore: keep the grace of the prince or the continued favor of a beautiful and very kind lady".
So very ancient roots, and a marked attention to the care of the historical reconstruction, which makes the famous Historical Parade of the evening preceding the race particularly fascinating. On Friday 17th under the starry sky, in fact, Foligno is crossed by the "Parade of local representatives": about 800 participants parading in baroque clothes, strictly faithful to the fashion and the iconography of that time.
In addiction, the local taverns where you will taste traditional seventeenth-century dishes and amny local products, and also exhibitions, guided tours, concerts... discover all the events in the program below!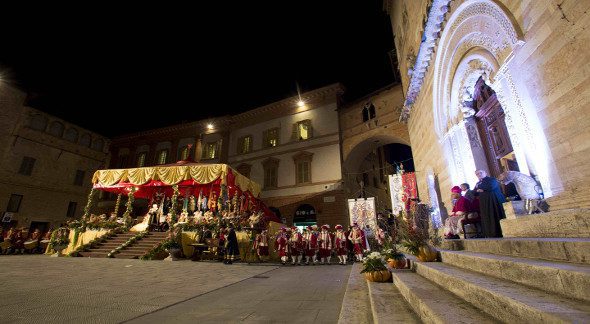 Here the Program of the 2018 Edition of the Quintana of Foligno!