Description
Da anni il Capodanno a Orvieto coincide con Umbria Jazz Winter, per un saluto al nuovo anno davvero speciale all'insegna della musica, grazie ai tantissimi appuntamenti in programma.
La manifestazione è un evento diffuso che coinvolge location storiche come il Teatro Mancinelli, il Palazzo del Popolo, il Palazzo dei Sette e il celebre Duomo di Orvieto, ma anche tanti locali e bistrot in tutto il centro storico.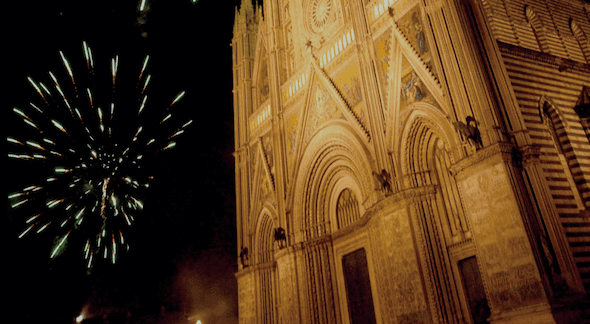 Capodanno a Orvieto con Umbria Jazz Winter
La serata del 31 Dicembre per il Capodanno a Orvieto prende il via già alle 17:00 al Teatro Mancinelli con l'ultimo dei 3 appuntamenti previsti del Benny Harris Trio: la leggenda del jazz Benny Harris torna a Umbria Jazz alla veneranda età di 89 anni, di cui ben 84 passati al pianoforte; con lui sul palco due partner di generazioni diverse, Ben Street al basso e Lewis Nash alla batteria.
Sempre alle 18:00, il Palazzo dei Sette ospita la musica del quartetto di Claudio Jr De Rosa, sassofonista e polistrumentista classe '92 che rappresenta le nuove leve del jazz italiano.
Alle ore 19:00 invece la musica anima il Palazzo del Popolo nella Sala 400, con l'ultima replica della performance "Mare Nostrum" di Paulo Fresu alla tromba, Richard Galliano alla fisarmonica e Jan Lundgren al pianoforte. Uno spettacolo che vede come protagonista centrale il Mar Mediterraneo, con l'incontro delle sue culture, genti e identità.
Musica, ma anche gastronomia! Per il Capodanno a Orvieto sono in programma 3 cenoni di Capodanno in altrettante splendide location, sempre accompagnati dal meglio della musica jazz e non solo:
Ristorante San Francesco, dalle 20:30 - WEE WILLIE WALKER & THE ANTHONY PAULE SOUL ORCHESTRA, band formata da specialisti del soul in una performance spettacolare e coinvolgnte 
Il Malandrino Bistrot, dalle 21:00 - Gran cenone di fine anno in compagnia di THE HOUSE QUINTET, quintetto formato da Piero Odorici, Daniele Scannapieco, Andrea Pozza, Aldo Zunino e Anthony Pinciotti
Palazzo dei Sette, dalle ore 22:00 - Gran cenone di fine anno arricchito da tanta tanta musica con il CLAUDIO JR DE ROSA QUARTET, il NICK THE NIGHTFLY QUINTET e il  FILIPPO BIANCHINI QUARTET
Aspettando la mezzanotte, dalle 23:15 al Palazzo del Popolo ci si diverte in compagnia dell'innovativo THE BIG EASY TRIO, nato dall'incontro artistico tra la voce di Karima con la tromba di Mauro Ottolini e con il pianoforte di Oscar Marchioni, per uno spettacolo che spazia dalla musica blues e R&B fino al Jazz dalle origini ad oggi.
Dopo il brindisi di mezzanotte, l'appuntamento è invece al Teatro Mancinelli per il classico concerto gospel che da sempre saluta il nuovo anno a Orvieto. Quest'anno sul palco il NEW DIRECTION TENNESSEE STATE GOSPEL CHOIR, che mescola gospel contemporaneo e tradizionale, spiritual e canto religioso afroamericano rivisto in stile classico.
Umbria Jazz non finisce qui: la manifestazione è in programma a Orvieto dal 28 Dicembre e fino a tutta la giornata del 1 Gennaio 2019, trovi tutte le informazioni sul programma completo nel nostro articolo dedicato all'Umbria Jazz Winter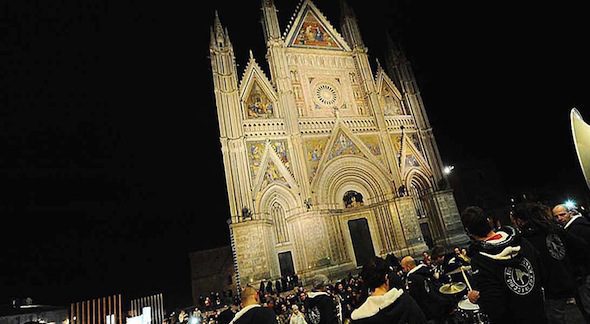 Buon Capodanno a Orvieto da Bella Umbria