Dal 23 gennaio al 03 aprile 2014, presso l'Auditorium Gazzoli andrà in scena la dinamica rassegna di musica contemporanea con artisti di grandissima fama e grandi novità: sei appuntamenti musicali per il Visioninmusica 2014!
>>Vuoi assistere ai concerti di Visioninmusica 2014? Consulta ora le offerte dei migliori hotel a Terni.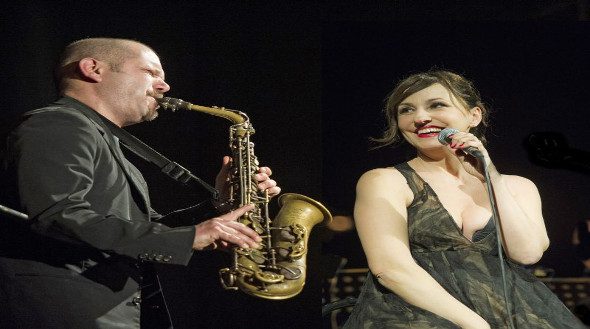 >> Ci sono offerte in scadenza per agriturismi nell'area di Terni! Clicca e consultale subito.
Si comincia con 'Nicki Nicolai & Stefano Di Battista Jazz Quartet' in 'Mille Bolle Blu' il 23 gennaio: è un'esclusiva regionale l'appuntamento che avrà come protagonisti l'inconfondibile voce di Nicki Nicolai e l'estro creativo di uno dei più noti musicisti jazz italiani, Stefano di Battista. Coppia nella vita e coppia artistica sul palcoscenico, a Terni, accompagnati da uno straordinario Trio – Andrea Rea al pianoforte, Roberto Pistolesi alla batteria, Daniele Sorrentino al contrabbasso – i due reinterpreteranno gli anni d'oro della musica italiana e internazionale in chiave swing e jazz, proponendo brani come 'Se stasera sono qui', 'Non gioco più', 'Se telefonando', 'Che sarà', fino a 'All my loving' e 'Smoke on the water'.
Mountain Men in 'Nothing Zero None' saranno in scena il 6 febbraio: in esclusiva regionale, dopo il successo della performance live dello scorso anno, l'atipico duo franco-australiano in occasione dell'edizione 2014 presenterà una selezione di brani tratti dai primi due album: 'Spring time coming' (2009) e 'Hope' (2013), oltre ad alcuni brani che fanno parte del loro nuovo lavoro discografico.
Il 20 febbraio è la volta di Get The Blessing in 'Lope & Antilope': è una delle date più attese della prossima stagione e vedrà ospite, in anteprima assoluta per l'Italia, una delle band più originali ed eccitanti dell'attuale scena musicale britannica.
Rimbamband, una delle formazioni meno convenzionali del panorama nazionale, in "Il Sol ci ha dato alla testa" il 6 marzo posticipato al 7 marzo. Cinque musicisti un po' suonati, ma straordinari, che incantano, creano, illudono, emozionano, demistificano, provocano e giocano. Mixando tutti i linguaggi possibili dell'arte e dello spettacolo, dalla musica al mimo, dal clown al tip tap, dal teatro di figura al rumorismo, fino alla fantasia teatrale e alla parodia, danno vita a uno show surreale, che si ascolta come un concerto e si guarda come un varietà, dove l'impossibile diventa possibile e il possibile improbabile, grazie alla musica che viaggia anche al di là di essa, in un ritmo incessante e vibrante di energia.
Joshua Redman Quartet in "Walking Shadows" il 20 marzo. A Terni presenterà il suo ultimo album "Walking Shadows", che combina in modo eterogeneo moderno e sperimentale tradizione jazz e interessanti interpretazioni di ballad vintage e contemporanee.
Raul Midòn in "Invisible Chains" il 3 aprile è l'ultimo spettacolo in programma.
Gli spettacoli si svolgeranno all'Auditorium di Palazzo Gazzoli e inizieranno alle ore 21. Per partecipare ai concerti sarà possibile abbonarsi all'intera stagione 2014 (6 spettacoli) al costo di 80 euro.
>>Se hai deciso di partecipare a Visioninmusica 2014, ti consigliamo di contattare ora i migliori hotel a Terni >> clicca questo link.