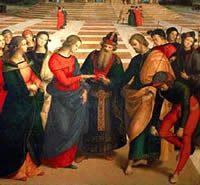 The first work that was signed by Raphael is The Marriage of the Virgin. The young painter from Urbino who at the time is only twenty years old, takes inspiration from the work with the same name of his master Il Perugino.
There are several analogies between the two paintings: they are both realized with oil on board, which at the top is in the form of an arch. In the foreground the two artists put the characters. In the middle there are bride, bridegroom and the priest.
From the side of the maid the painters collocate the ladies, from the one of the bridegroom, the men. On the background a temple arising on a staircase dominates the scene. But while Perugino paints his temple with eight sides and with a pronao on every two sides which is a symbol of continuity between the ancient times and Christianity, Raphael decides himself for a temple with sixteen sides, a form closer to the circular one, and consequently more harmonic.
The temple is surrounded by a peristasis of arches and columns. Probably Raphael took inspiration from Bramante's Temple of ST.Peter in Montecitorio. Considering that both the artists came from Urbino and there was a close frendiship between them, Raphael might have seen the project of the temple. Both the painters realize the perspective effect drawing the floor in a checkered pattern but Raphael uses stronger colors, Moreover in this last one the perspecive lines coincide with the corners of the staircase, so, despite of being parallel, the lines create a circularity sensation, coherently with the sixteen sides temple. A last difference between the two works is the collocation of the sight point, at the height of the eyes of the characters in Perugino' s painting, a little above in Raphael one: a solution, the last one more modern and effecting.