Description
Frontone Gardens are the first public park in the city of Perugia.
Completely fenced and closed by a special gate, they have a system of central flower beds bordered by four main avenues, interspersed with secondary pathways, which converge in the hemicycle terminal characterized by the presence of six statues representing the Arts and an amphitheater in travertine.
>> Do you want to visit Frontone Gardens? Contact now the best farmhouse in Perugia and discover their offers!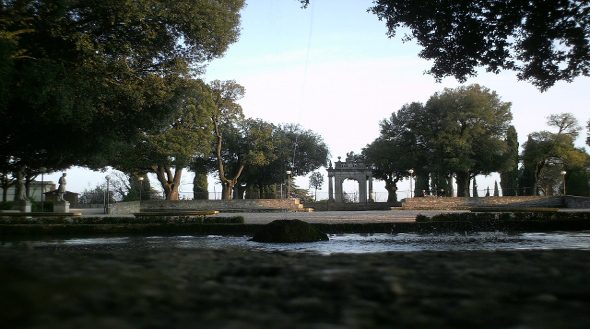 The gardens were created in an area that had first been an Etruscan necropolis and later a fort, from which the Perugians would face the enemy. They were designed by the poets of the Colonia Arcadica Augusta, who laid out the plan they still have today in the early 1700s, creating an amphitheater with earth tiers bordered by elms and lining the paths with exotic plant species. After a period of abandonment, in about 1780 the gardens were cleaned and fixed up by the Acadians again, who replaced the earth tiers with the present-day travertine seats, planted ilexes in place of the elms, and built a first fence. In 1791 they added the travertine arch designed by Baldassarre Orsini at the center of the amphitheater. During the 1800s the gardens were further renovated with the creating of the flower beds and the central basin, the expanding of the fencing and the replacing of the exotic plants with the ilexes, still standing majestically today.
>> There are offers in deadline! Click and consult list of the best hotels in Perugia!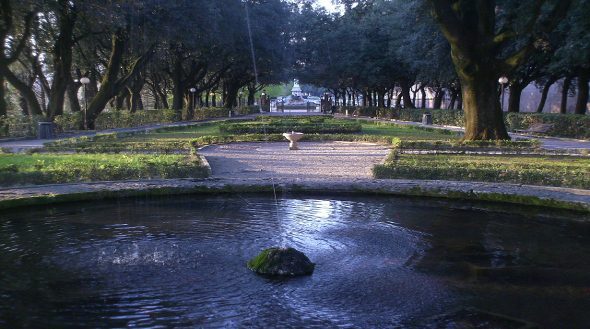 The gardens have a simple but beautiful assortment of plants, with grand, centuries-old ilexes and laurel and laurustine hedges.
>>If you've decided to see  Perugia and  to visit the Frontone Gardens you should contact now houses in its vicinity >>click this link