Description
Look at the calendar: the feast of 8th December is on a Saturday this year, anyway you can enjoy of a special weekend rich of events... it is perfect to organize a little vacation, perhaps in Umbria where in the festivals and the many gastronomic events planned, you will find already a Christmas atmosphere !
The weekend of 8th December is especially nice to spend a few days in the region, from Perugia to the Nera Valley, from Assisi to Orvieto, from Todi to Spello, you can visit the most charming cities of art, taste the delights of the local cuisine and of course immerse yourself in the magical Christmas ambiances with streets markets and special events.
Let's see the most beautiful events for the long weekend of 8th December 2018 in Umbria!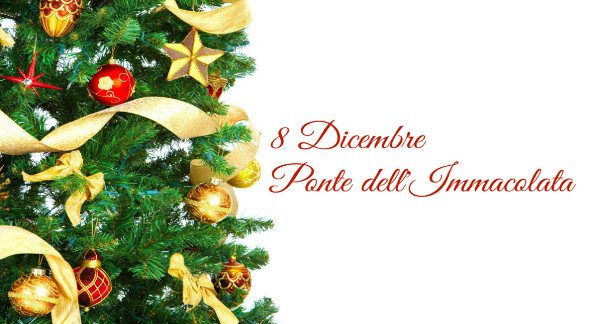 Inauguration of the Christmas Tree of Gubbio
260 coloured lights will draw the famous Christmas Tree of Gubbio, the largest one in the world with its 650 meters of height on the slopes of Igino Mount, that overlooks the medieval town of Gubbio. Throughout the month of November, the "alberaioli" (workmen for the tree) worked to prepare the area and to assembly the lights.
So all setting is now ready for the official lighting, the inauguration of the Tree that will be held as usual on the evening of 7th December, the eve of the Immaculate day.
For the 2018 edition, the lighting of Christmas Tree will be really special: protagonists are the pilots of Frecce Tricolori. Their airplanes will enchant the guests with many acrobatics, crossing the skies of Gubbio and pain
Find out more in our post dedicated to the Lighting of the tree on 7th December.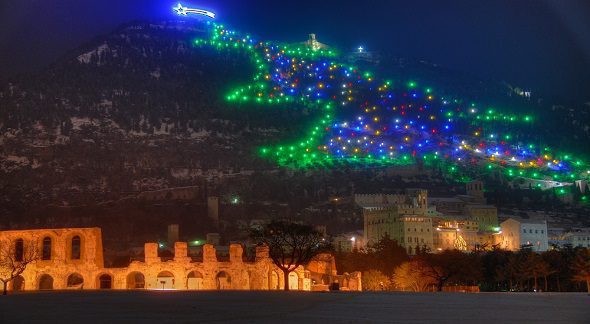 Comet of Miranda
There will be various initiatives together with the lighting of the Comet of Miranda that, from the summit of the namesake mountain, will shine throughout the Christmas period and will dominate Terni and the Terni basin. The charming star, which occupies a total area of 30.000 square meters, forms a diameter of 105 with a tail of 350 meters, and it is visible from kilometers away.
The lighting inauguration is planned as usual on the 8th December, find out more in our post about the Comet of Miranda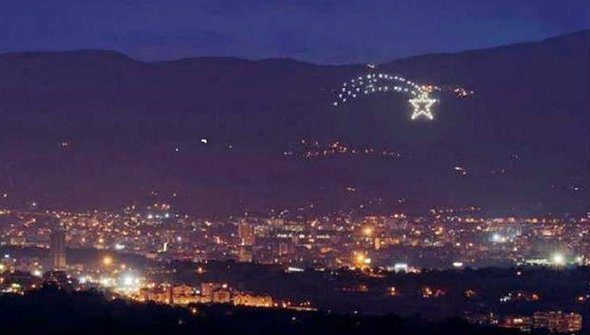 Christmas Markets in Umbria
With the long weekend of 8th December, you can immerse yourself in the magical atmosphere of Christmas street markets, perfect to delight yourself with Umbrian gastronomic products, local crafts, special decoration for your home ... and much more !
The details of their preparations are in definition for 2018, continue to follow us to stay up to date:
Christmas at the Fortress, Perugia
Todi Magic Christmas
Magical Christmas in Assisi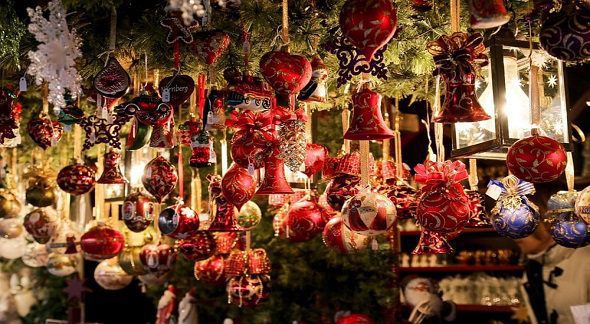 2018 Gift Expo
Come into the Christmas ambiance with 2018 Gift Expo, the largest and festive fair dedicated to the Christmas shopping, looking for the perfect gift for your loved ones and for the most beautiful suggestions to decorate your home !

During the weekends of 30th November and 1st-2nd December and 7-8-9th December 2018, at the exhibition area Umbriafiere of Bastia Umbra (Pg), you can find four major thematic areas that will satisfy all your needs : Outlet Expo with designer labels at bargain prices; Italy at the Table, dedicated to the national cuisine of quality; Shop in Umbria, with the best products of Umbrian trade and craft; and of course Christmas Expo, including ornaments, decorations and gifts for the whole family.

For more information, look at our article about Gift Expo