Description
2014 Carnevalandia is the first Carnival characterized in the Middle Ages , which takes place in Umbria. The streets of Todi will see a parade of over than 300 costumed figures that give rise to unusual and spectacular scenes with medieval battles fought by master of arms , rides horses, flag-wavers, games, archers with fire arrows. A suggestion of ancient times, more than a thousand years ago, when the valley watered by the Tevere was important for the ways of communication that crossed through small villas and farmhouses settlements.
Do you want to live the magic of 2014 Carnevalandia? >> Check it out now of the best Farm-Houses in Todi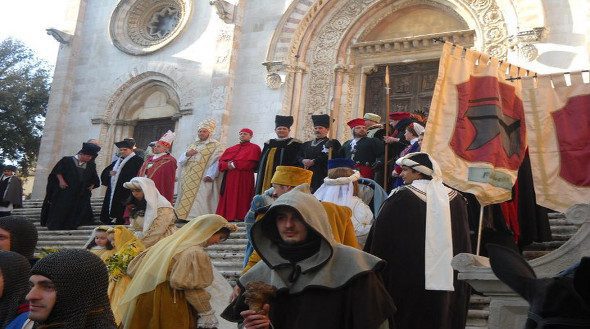 Last minute offers for Wellness and Spa near Todi! >> Click here and Consult them immediately.
The event opens with the reading of the " Notice on the carnival and fair ", taken from the Municipal Statute , which dates back to 1275.
Armed men, acrobats, horse rides and medieval games in the beautiful choreography created by the historical group of flag- wavers Knights of the Eagle. Storytellers , falconers, an army camp with the carousel horses and fighting knights. 
2014 Carnevalandia means great joy of being together !
>> If you've decided to live 2014 Carnevalandia experience you should contact now farmhouses in Todi >> click this link.