Description
The spaces of the CAOS, and some places in the city on the occasion of 2013 Terni Festival , from September 19th to 29th will host again Terni's International Festival of Contemporary Creation of Terni, which this year reaches its 8th edition .
The purpose of 2013 Terni Festival  is to organize " Aparty for the Gods ", artistic performances which stimulate a debate , a discussion, to ' mark ' the spectators.
2013 Terni Festival will start on Thursday, September 19th, 2013 at 6 pm with " Eating sandwich of reality," a project on ' political comics ' created by the designer and visual artist Gianluca Costantini - curator of Komikazen , International Festival of Reality Comics . In total will be 11 days of performances , installations, sensory experiences , urban interventions , meetings and parties , theater, dance , visual arts, activities dedicated to the creativity of children and adults to care for some of the most interesting contemporary art , national and international .
Do not miss the Kinkaleri , contemporary dance company became a cult hit in the nineties , famous for its piéce on political issues , the relationship between body and word scene , which will stage " Meal Public" , a "phone performance" ( Saturday 21 Sunday, 22 September, 3 pm and 5 pm )
One of the cornerstones of 2013 Terni Festival  will be the interplay between politics and public space, the importance of the Community dimension in the cities. The show that perhaps most of all reflects this intent is 'Agoraphobia' , produced in collaboration with the Netherlands Embassy and programmed in two squares of the city center ( Friday, September 20 and Saturday, September 21 at 6.45 pm in Piazza della Repubblica and Largo Villa Glori ) that revolve around a homeless starring by Daria Deflorian , Ubu award for best actress for ' Reality.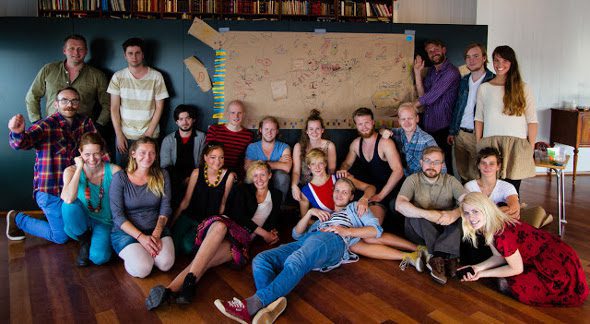 The Tony Clifton Circus, definitely particular italian couple of clowns  will come back with "Mission Roosevelt", preparing to go to war aboard ... a wheelchair, metaphor of disadvantage through which to conquer the city.
It is also renewed the relationship with the Biennale of Young Artists of the Mediterranean, curator of an installation the streets of Terni, and with the French Institut and New France patrons as part of the dance/Transarte, you will see on stage Julie Nioche, a choreographer born as the protagonist of an osteopath work on the body and the solar system.
But the festival will also involve associations and local realities, and intersect with Ternion, the 'white night' scheduled on September 20th to 22th with a special event at the Circle of the Dragon, with a view to the discovery of a place that many believe open only for private parties.
Here you will find the complete 2013 Terni Festival Program. For more information on tickets, artists and shows, you can visit ternifestival.it.