In Pietralunga there is the 27th edition of the National Exhibition of truffle and white potato.
The Market show, which takes place in the historical center (Piazza Fiorucci, Via Roma, Via G. Marconi), is dedicated to local products and regional food and wine, in particular to the white truffle and white potato, typical of the pietralunghese area.
 >> Do you want to take part to the 2014 National Exhibition of Pietralunga's truffle and white potato? Visit now the best accommodations of Pietralunga and surronding.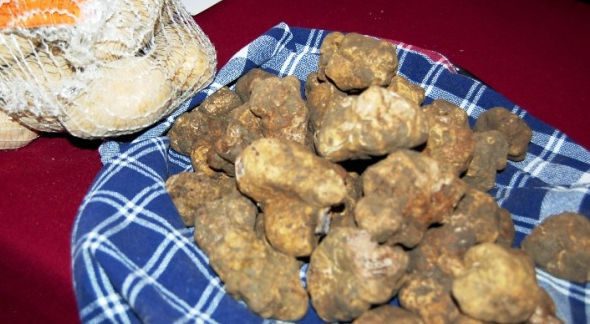 The stands, taverns and restaurants will animate the autumn days of the ancient Umbrian village, from 10 to 12 October and the following weekend of 18, 19 and 25, October 26, with music, entertainment, folklore and gastronomy, all surrounded by the tasting of truffle specialties and local dishes.
During the exhibition market, there will be opportunities for entertainment and various initiatives, such as car rallies and wasps vintage, jazz concerts, conferences and gastronomic challenges, we should give space to handmade products and the artistic ones.
 >> The 2014 National Exhibition of Pietralunga's truffle and white potato waiting for you! We suggest that you contact the best Farm houses in the area.
 Program of the event is the following:
Saturday 11 and Sunday, October 12: 1st gathering of campers 'Borgo Pietralunga', competition of truffle dogs and the 4th edition of the footrace 'The Tartufissima'.

Saturday, October 18: will be dedicated to the Fiorucci's House, a noble family of local origin, which has about 10 thousand people around the world.

Sunday, October 19: 2nd gathering of cars, motorcycles, wasps from yesterday and today.

Saturday, October 25: 10 am, in the council room of the Municipal House, tastings and tasting trails.