Description
Near Assisi there is the Eremo delle Carceri (Carceri Hermitage), the place where St. Francis of Assisi and his followers retreated to pray and meditate. Located 4 miles from downtown, 791 meters above sea level on the slopes of Mount Subasio, the Carceri Hermitage is located near some natural caves frequented by hermits already in the early Christian, in a beautiful forest of oak trees where pilgrims  still retire in contemplation.
It was donated by the City of Assisi to the Benedictines which gave it to Saint Francis to "jail himself" in meditation. In 1400, St. Bernardine of Siena built the church of Santa Maria delle Carceri, which incorporated a primitive pre-existing chapel to St. Francis, and a small convent .
>> Do you want to visit Assisi? Check it out now of the best hotels in Assisi Italy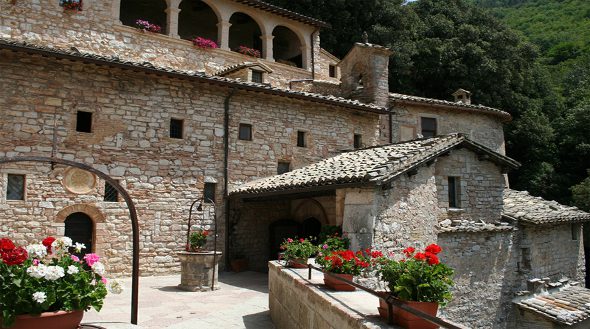 >> Do you want to discover Assisi's spiritual places? Check it out now of the best farmhouses in Assisi.
To find Eremo delle Carceri if you are coming from Assisi take the road that goes up the mountain Subasio, continuing for up to once a cobblestone masonry, above which lies the cloister of the monks, a triangular terrace overlooking Fosso delle Carceri. At the end of the cloister there are doors leading to the dining hall of the friars and the church of Santa Maria delle Carceri . On the upper floor of the refectory are situated on the monks' cells . Going down a steep flight of steps from the monastery we reach a beech forest and the cave of St. Francis. From the path in front of this depart the other caves of the early companions of Francis Leo, Anthony Stroud , Bernard of Quintavalle, Egidio, Sylvester and Andrew of Spello.
If you've decided to visit Assisi and discover St. Francis' places you should contact now farmhouses near Assisi >> click this link.