Description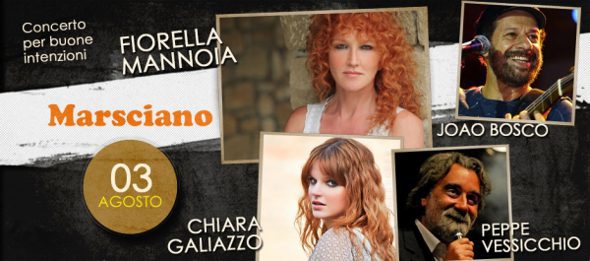 This year the 11th edition of Musica per i Borghi, the popular Festival directed by the famous conductor Peppe Vessicchio will see Assisi and Marsciano sing and dance.
According with the popular spirit of the festival, the concerts will be held from July 5th  to August 30th  from 9.30 pm in different locations, and will be completely free and open to the public.
2013 Musica per i Borghi  starts on Friday, July 5th in Piazza San Giovanni, in Marsciano, with the String Orchestra of the Conservatoire de musique populaire de Geneve, which, with twenty elements, will perform a concert in D minor, Opus 3 (Estro harmonic) for 2 violins, cello and strings by Vivaldi and Strabat Mater by Pergolesi.
After their performance it will be the turn of  the two big names in the billboard. Sunday, July 21th  the central square of Spina Marscianese will host Eugenio Finardi, the protagonist of the intimate "The new humanism tour".
This will be followed on Saturday August 3rd by the big expected live from Fiorella Mannoia, at Carlo Marx Square, in Marsciano. A "Concert for good intentions" in which the great singer Mannoia will meet the refined sounds of the famous  popular Brazilian singer and songwriter Joao Bosco, enriched by the classical orchestra directed by Peppe Vessicchio. A concert full of positive energy created specifically for 'Musica per i borghi' by the artistic director of the festival.
The program of  2013 Musica per i Borghi has a lot of space for young people. Fiorella Mannoia's  live will see the partecipation of Chiara, winner of the last edition of "X factor" and on Friday, July 26th the small village of Papiano will welcome the singer Cile, and his "We're dead in twenty years tour ".

For the closing day on Friday 30th  August, the Festival will move in Assisi, with "The beautiful singing of the beautiful country". An extraordinary journey in the Italian vocal tradition narrated and conducted by the conductor Sergio La Stella, which will be staged in the picturesque setting of the Angelana Cathedral .