Descripción
Among the historical re-enactments of which Umbria is one of the most rich feeling is certainly the Corsa all'Anello, an event that involves the entire citizenry and draws spectators from all over central Italy and beyond.
True to its traditions, this year, from 24 April to 11 May, Narni back to 1371: torches and flags will color the streets and squares, the streets will be filled with sound; new and old guests enliven furnaces and taverns intent to seize inviting aromas and flavors; parades and contests will revive the ancient competitions between 3 Terzieri: Mezule, Fra Port and Santa Maria.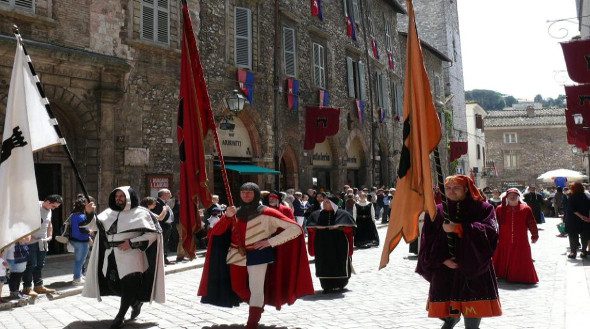 There are offers expire ! Click and see the list of the best hotels in Narni!
Beyond the challenge and its symbolic significance, the Corsa all'Anello is an unmissable opportunity to visit Narni at a particularly impressive. The party atmosphere where you can enjoy in this environment perfectly reconstructed medieval you will experience the city in a unique way, taking you back in time.
In this contribution the many shows that take place every day in the streets of the city center:
- Performances of the flag wavers and drummers;
- Concerts of medieval music between songs and ditties;
- Tournaments, medieval games for adults and children;
- Baptism ceremony of the knights;
- Culinary competitions and medieval banquets use;
- Street theater, jugglers and children's entertainment;
- Falconry show horse.
And to complete the atmosphere will be open every day of the taberne, where you can taste local dishes in real taverns set up as in medieval times.