Description
On a hill that gently slopes towards the valley, about 6 km from Todi, the Sanctuary of Collevalenza, dedicated to the Merciful Love of Jesus. It was here that on the 18th August 1951, by a special disposition of Divine Providence, Mother Speranza, with some of her sisters and the first Sons of Merciful Love, came to settle.
>> Do you want to visit the Sanctuary? Contact now the best farmhouse near Collevalenza and discover their offers!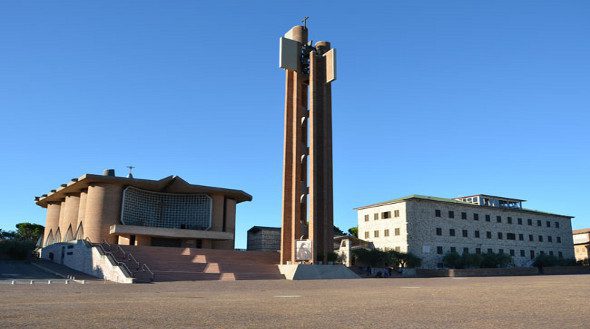 Designed by the architect Giulio Lafuente Madrid in 1965, the Sanctuary of Merciful Love is one of the boldest examples of modern architecture. The view of the imposing facade deliberately offers the visitor a severe impact , crushing , alluding to the weight that the pilgrim who goes in and there he was invited to testify. The interior of the church has a nave with six side chapels. The wall is with exposed brick.  The presbytery is made entirely of white marble and is home to the center of the altar. Close to the bottom wall of the basilica, on the right, there is the Tamburini organ opus 531, built in 1966. The visitor who is looking for a place to dive into more intimate prayer can go down into the crypt, where the body of Mother Hope was buried in 1983. 
>> There are offers in deadline! Click and consult list of the best hotels near Collevalenza!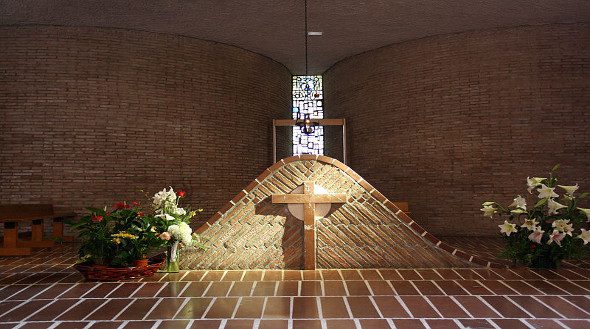 In addition to the Sanctuary you will find the Casa del Pellegrino, the House of Young, the Well and the fountain fed by the Well. The recurring element in the Sanctuary of Collevalenza is water. There are, in fact, the pools where the sick, in need of care, plunges. The Sanctuary was awarded the title of Basilica by Pope John Paul II in 1982.
>> If you've decided to see the Sanctuary of Merciful Love you should contact now houses in its vicinity >> click this link