Giostra della Quintana (Joust of the Quintana)
Foligno (PG) hosts the Giostra della Quintana (Joust of the Quintana), an annual historical event revived in 1946 after a century break. Inspired by an ancient medieval equestrian competition, the Joust will bring the city back to the time when women were "Dame" and men "Messeri".
The word Quintana was referring to the fifth street of the Roman military camp, where took place the training of the soldiers. Armed with lances, they hurled against a puppet, commonly called "Saracino" (Saracen), trying to skewer them on a suspended ring.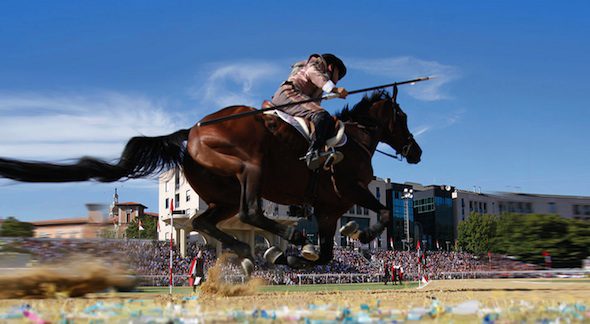 The Joust of Quintana is one of the best known and most popular horse races in Italy. In fact it is called also "Olympic Equestrian competitions". Ten riders will represent the ten districts of the city, and on this occasion they will take on a "fake name": the Ammaniti's knight is "The Vigorous", Badia "The Bold", Cassero "The Pertinacious", "The Furious" for Contrastanga, "The Faithful" Croce Bianca, "The Spirited" Giotti, "The Generous" La Mora, "The Bold" Morlupo, "The Black" Pugilli and "The Audacious" Spada. They will compete in armor riding a horse, in order to skewer the fateful 9 rings, 3 for each round.
At each turn, the size of the rings will change from 10 cm to 8 cm and then to 6 cm. The rider who will manage to make the highest score will be the winner of the Joust of Quintana and he will be awarded after the competition to the "Campo de li Giochi".
The Joust of Quintana has two different competitions: the first one is held in June and it is called La Sfida (The Challange). The second one takes place on Sunday in September and it is called "La Rivincita" ("The Rematch").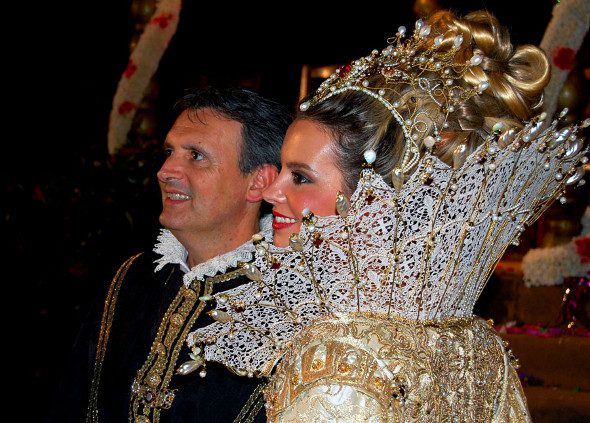 The Joust of Quintana is not only a game. In fact, the evening before the competition, a wonderful historical parade of about 600 people in costume will parage through the streets of the city. Do not to be missed also the taverns, which will remain open during the period of the events with many local and tradizional dishes.
Form more informations and for the complete programme of the annual edition, read our pages dedicated to: