Description
30th Edition of the Nativity in the Well
From 23th December 2018 to 13 January 2019, don't miss the traditional Nativity-Event of Orvieto, located in the basements of the Cava Well.
To allow the visit at the Nativity, extraordinary opening every day from 9:00 am to 8:00 pm (last entrance at 7:45 pm).
Come to visit the Nativity in the Well and Orvieto, discover here the best hotels and farm houses
 A walk in the underground of the cave
The extraordinary nature of the Nativity in the Well is certainly his unique location, inside the archeological complex of the Cava Well, in the medieval heart of the city of Orvieto.
The Cava Well is an exceptional place of its kind, rich in archeological discoveries, tunnels and beautiful caves. In particular, in the last big room, an Etruscan cave of 14 meters of height, you can find a spiral pattern from the bottom to the top that let you admire the Nativity scenes in all theirs grandeur.
This is a very original visit, a charming experience in addition to an unusual discovery of Orvieto's Undergrounds and all the centuries of history that crossed it.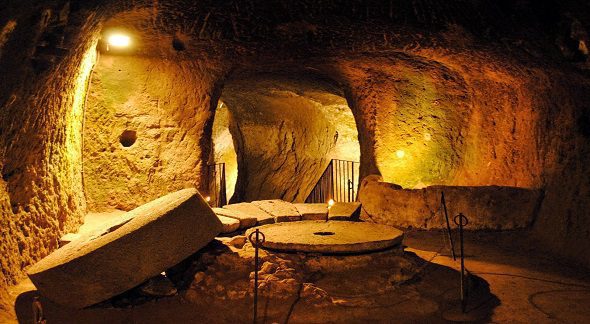 The Nativity of the Well, Orvieto and many others beauties to explore from one of the surrounding hotels or farm houses 
Visiting the Nativity in the Well
The Nativity in the Well and the theme of 2018
In addition to the evocative location, another important feature of this Nativity is the choice of a different theme for the preparation for each year. The Nativity Scene is in fact prepared according to a very specific theme, certainly linked to Christmas, but which a combination of sacred texts, historical truths and traditions in an original way.
2018 will be the third year of the "Witnesses", a scenographic and narrative cycle in which the Nativity is told by secondary characters, based on their specific and often unusual point of view. This 30th staging will then follow the narration of Raziel, the angel of the segereti of God from whose hands Maria ate in the Temple, who will tell with particular care the angelic encounters of the young Maria.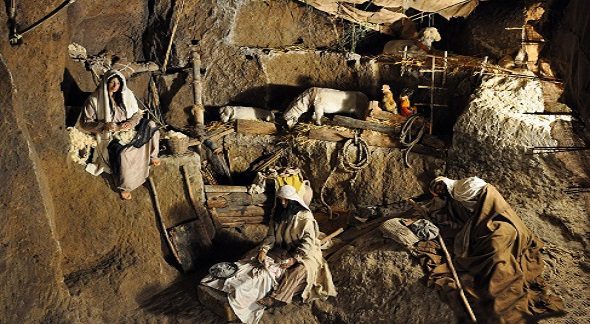 The charme of the historical representation
The mystery of the undergrounds and the archeological findings, from the Etruscans to the Middle Age, from the Renaissance until the last recent renovation, is combined in the Nativity of the Well with the beauty of the historical reconstruction .
Costumes, ornaments, settings... all the elements of the Nativity of the Well are made in order to comply as much as possible the original one, and to create a representation very close to the reality of Palestine at the time of Jesus Christ.
In addition, this year the performance will be full of special effects, with dioramas and scenes populated by mechanical characters at eye level that will be very realistic.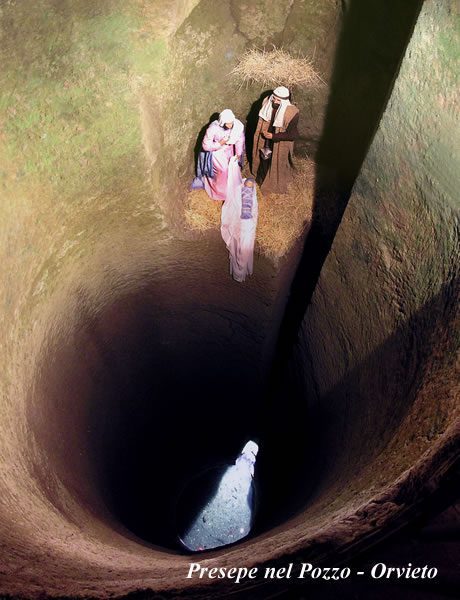 All the special offers to stay in Umbria