Description
Città della Pieve is a lovely village in Umbria , and every year , is organized an interesting historical event , known as the " Terzieri " traditional event which brings its origins between 1400 and 1500, which still tells today culture and customs of the Middle Ages.

The event , which is able to obtain critical acclaim and attracted the attention of a large number of tourists , comes as the reenactment of a medieval tradition , the famous " Running of the Bull " , a kind of bullfight that took place , however, between the streets of the town and not in an arena and during which the men who took part faced the bull with spears .
Today the event has lost this ancient connotation of the bull hunt and primarily aims to evoke the culture and traditions of the Middle Ages and the Umbrian Renaissance. On days of celebration in fact we are seeing a number of shows and demonstrations of safe historical and cultural interest, with the reconstruction, the streets of the historic center of the old workshops of the fourteenth century, music and dancing in the streets of the country.
The Palio itself is preceded by a parade in period costumes, attended by over 700 people and take part in the ancient political personalities most important in the territory, later then the focus is of course on the Palio, this consists of a contest of skill at archery, representatives of terzieri will hit Moulds shaped, bull, an element that joins the event to the medieval tradition, takes place in three stages, after which the shooter that obtains the best result, will bring victory, symbolized by a drape of fabric painting, his Terziere.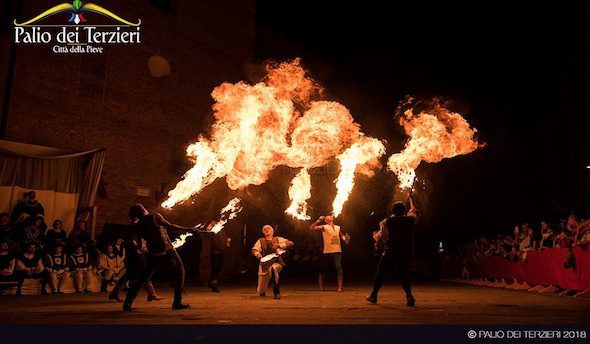 2019 Program of Palio dei Terzieri
5th MAY

ENTE PALIO DEI TERZIERI

Introducing the 2019 Palio at 10.00 Palazzo Corgna

Solenne Benedizione dei Palio, dei Vessilli e degli Arcieri at 17:00 Cathedral

 

12th AUGUST

TERZIERE CASALINO

La bottega dell'arte at 21.30 Orto del Vescovo

 

13th, 14th and 16th AUGUST

TERZIERE CASTELLO

Celebrations of the Holy Patron Saint Rocco

 

13th AUGUST 

TERZIERE CASTELLO

Uscita del banditore per le vie del Terziere at 20,30

 

Fiera di San Rocco

Artisan workshops with re-enactment of ancient crafts and flavors. Special traveling show

At 21,00 Vie e Piazze del Terziere

 

14th AUGUST

TERZIERE CASTELLO

Fiera di San Rocco

Artisan workshops with re-enactment of ancient crafts and flavors. Special traveling show

At 21,00 Vie e Piazze del Terziere

 

15th AUGUST

ENTE PALIO DEI TERZIERI

Lancio della sfida tra Terzieri

At 17,30 Piazza Plebiscito

 

16th AUGUST 

TERZIERE CASTELLO

Celebrations at the Palace in honor of the Holy Patron Saint Rocco

Special Show

At 22,00 Piazza Plebiscito

 

17th AUGUST

TERZIERE BORGO DENTRO

"De burgi gaudio et fiera"

Renaissance market at the time of Bandino games and itinerant shows

Starting from 10,00 Vie e piazze del Terziere

 

18th AUGUST 

TERZIERE BORGO DENTRO

"De burgi gaudio et fiera"

Renaissance market at the time of Bandino games and itinerant shows

Starting from 10,00 Vie e piazze del Terziere

 

Sgherri di balia

Renaissance shows and duels with vintage weapons and costumes

At 22,00 Piazza Plebiscito

 

19th AUGUST

TERZIERE CASALINO

The night of Barbacane

Re-enactment at 21,30 Vie e piazze del Terziere

 

20th AUGUST

TERZIERE CASALINO

Festa in Arme

At 22,00 Piazza Plebiscito

 

21st AUGUST

TERZIERE BORGO DENTRO

Compagnia dell'Orca

Spettacolo teatrale

At 21,30 Vie del Terziere

 

22nd AUGUST

ENTE PALIO DEI TERZIERI

Ludi Iuvenales

At 22,00 Vie e Piazze cittadine

 

23rd AUGUST

ENTE PALIO DEI TERZIERI

Renaissance Music Concert at 21,30 Cathedral

 

24th AUGUST 

ENTE PALIO DEI TERZIERI

Compagnia Sbandieratori e Musici of Città della Pieve

Show of fluorescent flags at 22,30 Piazza Plebiscito (then in Campo di Santa Lucia)

 

25th AUGUST

ENTE PALIO DEI TERZIERI

Historical Parade and "bull hunting"

At 17,00 Piazza Plebiscito (prosecuzione al Campo di Santa Lucia)

 

5th OCTOBER 

ENTE PALIO DEI TERZIERI

Premio Masgalano 2019

At 21,00 Piazza Plebiscito