Description
FameLab back in Italy: the international scientific talent show for fans of science that in three minutes and the sound of words will compete in communicating to the public a scientific topic that they are passionate about. 
FameLab is an international competition organized by the British Council, the cultural organization and conceived by the British Science Festival in Cheltenham.
In Italy, the competition is sponsored by the British Council Italy, coordinated by Psiquadro and realized in collaboration with: Science Museum of Trento, Clouds of Naples, Association Science Festival of Genoa, FosforoScienza of Ancona, Trieste Imaginary Science, Perugia Science Fest INAF-OAB Perugia and Milan.
The selection of Perugia is scheduled March 15 at the Teatro della Sapienza dell'ONAOSI Via della Sapienza starting at 10:00 am.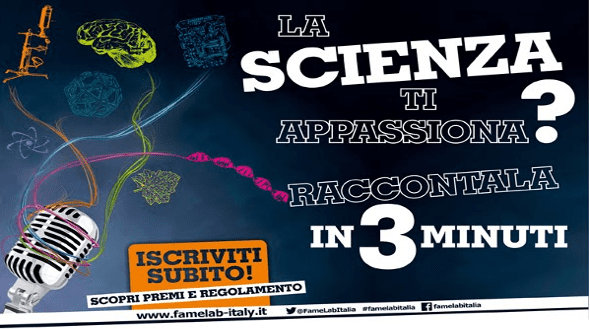 Other local selections that you can still sign up will take place on the following dates :
February 28 - Trento
March 7 - Trieste
March 13 - Ancona
March 15 - Genoa
March 15 - Perugia
March 16 - Naples
March 16 - Milan
To compete , simply fill out the form downloaded from the website www.famelab - italy.it section how to participate and send it by mail, no later than the 23 of March 14 , 2014, at perugia@famelab-italy.it
Participation in the competition is free.
Please note that both the regional and the national stage will be played in the Italian language. The national winner who will compete in the international final will have to use the English language .
We remind you that for the regional selections you need to prepare two different presentations of three minutes: one for the pre-selection and final selection for , in the event that the competitor exceeds the pre- selection .
For the national selection is needed is just a presentation .
A qualified jury will designate first and second place in each city. The 14 winners of the local selections can participate for free on a two-day training on communication techniques of science organized in Perugia April 12 to 14 with international experts.
The national final will be held in Perugia May 3, 2014 at the Peacock Theatre .
The winner of the national final will face the winners who have competed in over 20 countries worldwide . The international final will be held in June in Cheltenham during the Cheltenham Science Festival .