Description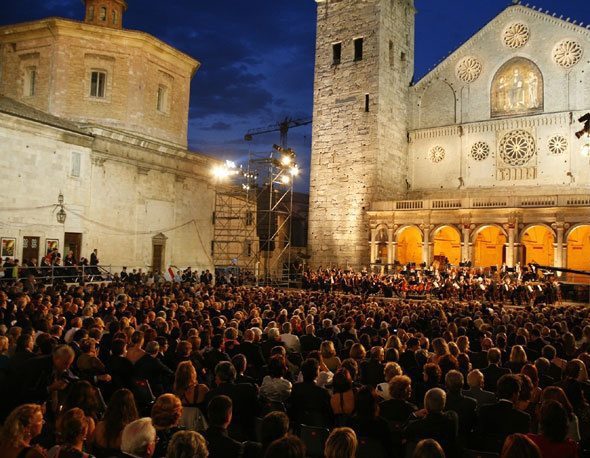 For Festival dei 2Mondi 56th edition, the event which celebrates art in all its forms, Spoleto will be happy to host on its stages some of the most famous international artists.
During the last 55 editions the wonderful Spoleto's Piazza del Duomo has seen performances of artists such as Rudolf Nureyev, Carla Fracci, Luchino Visconti, Ezra Pound, Luciano Pavarotti, Roman Polanski and Vittorio Gassman, just to name a few.
Spoleto56's program is divided into 6 main areas: Opera, Music, Theatre, Dance, Art, Events.
For Opera section, the show will be opened on 29th June by Secret Marriage conducted by Ivor Bolton for directing and scenography of Quirino Conti, performing Bari's Teatro Petruzzelli Orchestra
From 11th to 13th of July will be the round of Croquefer & Tulipatan, Jacques Offenbach's minor work performed by the brilliant French company Les Brigands.
From June 28th to 30th The Piano Upstairs by John Weidman will open the dance section. Alessandra Ferri and Boyd Gaines are directed by the festival's artistic director Giorgio Ferrara.
Do not miss Seattle's Mark Morris Dance Group which will perform from July 5th to 7th, and the LA Dance Project, an art corporate founded and directed by Benjamin Millepied (July12th to13th ).
The music section this year is richer than ever and opens on June 29th with Fondazione Carlo Felice Orchestra, conducted by Alvise Casellati, followed by an organ festival coordinated by Maestro Paolo Sebastiani.
The following day Orchestra of Santa Cecilia Conservatory conducted by Silvia Massarelli will perform Verdi and Britten, while on July 2th to12th "Francesco Morlacchi" Perugia's Conservatory will perform a variety of musical repertoires in different places of Spoleto.
12.00 am to Spoleto56 to mean only one thing: lunchtime concerts while for 10 days in the evening people can listen to the Cloister Concerts performed by Matthew Aucoin, Keir GoGwilt and Paulo Szot.
For a complete list of the events we refer to the official website of the Event, we remind you the date with Raphael Gualazzi on July 6th and the final concert on 14th July that this year will be performed by La Scala Philharmonic executing Giuseppe Verdi and Richard Wagner conducted by James Conlon.
Theatre, one of t Festival of 2Mondi's principal character, this year begins on 28th June with the European Young Theatre's performances and workshops. This group is composed by emerging actors and filmmakers which are guests of National Academy of Dramatic Arts "Silvio Amico', and it will perform in different timeslots for 16 days.
Decalogue will be performed from July 13th to 29th and it's exhibition design inspired by Kieslowski's movie. Only a date, June 29th , for Green Porno, produced and played by Isabella Rossellini. We suggest you After the Silence, interesting theatrical adventure born from a collaboration between Pietro Grasso and Francesco Niccolini; Une Odyssée, a productiond conceived, adapted and directed by Irina Brook and recommended for children and families; The Homecomingby Harold Pinter, directed by Peter Stein; to finish Old Woman, Robert Wilson's last show.
Art has its space too with Palazzo Collicola's 6 exposures curated by Gianluca Marziali and Sconfinamenti, a project by Change Performing Arts curated by Achille Bonito Oliva, collection that "trespass" from fine art to movies and theater, literature, photography, etc..
Without Borders Film Festival will be held at Sala Frau July 5th to 7th for its sixth edition.
Socially Correct, is an interesting competition reserved to communication sector students and graduates to develope a communication campaign about organ donation and transplantation of organs, tissues and cells.
The second edition of Art and Psychoanalysis will take place on July 6th . This theme will be the subject of Cinema and Psychoanalysis's fourth edition: movies by Pierpaolo Pasolini and John Houston will be screened.