Beschreibung
Each year, between the first days of June and mid-July , the plateau of Castelluccio di Norcia becomes a witness to an event unique and wonderful, The Flowering.
The monotonous color tint of the pastures is broken by a palette of colors from yellow ocher to red.
Everything is entrusted to the climate of the season and nothing is ever predictable! Floral species that dye the Pian Grande and the Pian Perduto in this period are countless and when you are walking along the paths can be meet: gentianellas, daffodils, violets, poppies, buttercups, daffodils, purple eugeniae, clovers, shamrocks and much more.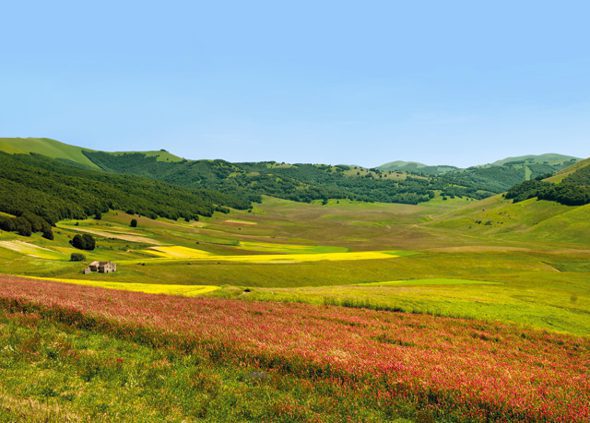 In this 2014 the floral explosion late in coming, but it the recommended date after which you can go up to Castelluccio and enjoy this show is June 20th!
The real "Feast of the Flowering" has been set for Sunday, June 29, this year.
Here is the schedule of the Feast of the Flowering in detail:
The day begins at 10 am with a Mass to be celebrated in the chapel next to the pinewood designed in the shape of Italy, in the center of the Pian Grande.
It continues at 11 with a show with animals surprise edited by Falco (John Garnets).
A lunch stop is scheduled at 13; the afternoon the day will then continue with shows free flight and launch of the bag lentil (in collaboration with the Prodelta).
The programs listed above are subject to change depending on weather conditions.
For all the information you need, please contact: Pro- Loco Castelluccio - Phone 3386267022 - prolococastelluccio@libero.it